Avicenna, Mercenary Doctor
Available in this factions:
€12.95
Available to purchase online
---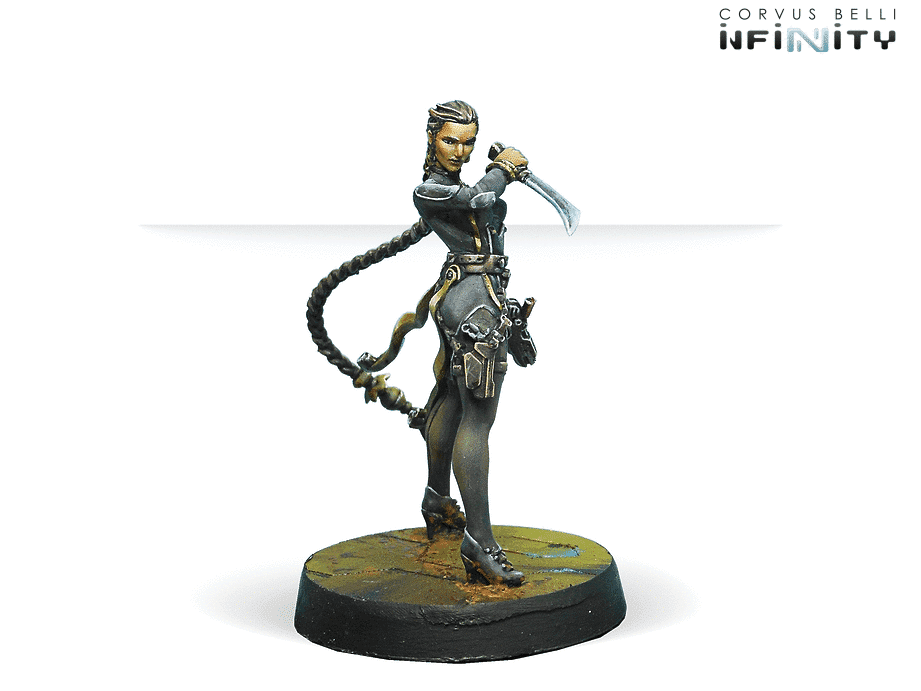 AVICENNA CC Weapon
AVICENNA CC Weapon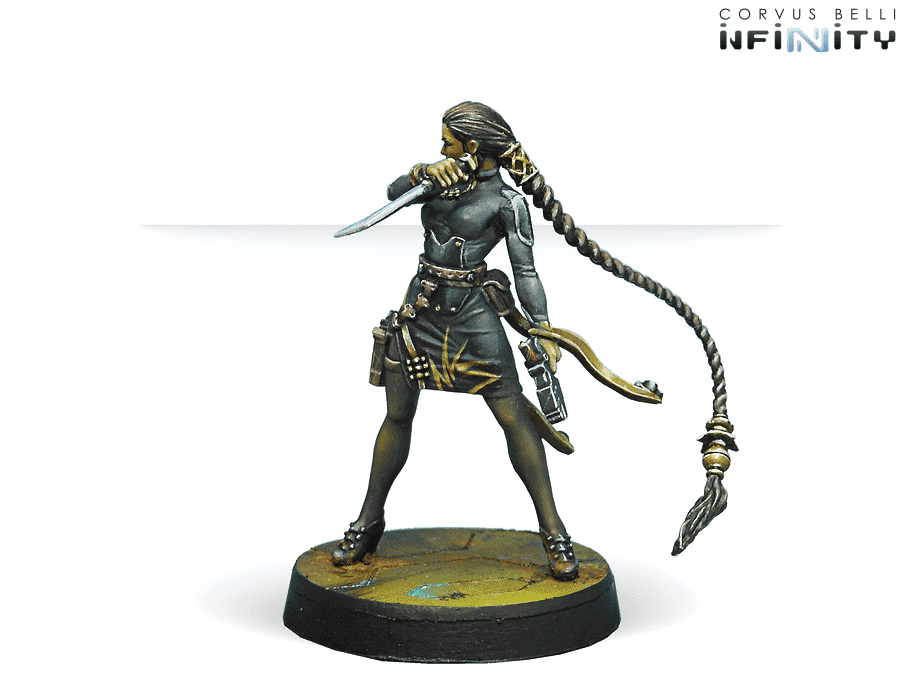 Avicenna, Mercenary Doctor
Avicenna, Mercenary Doctor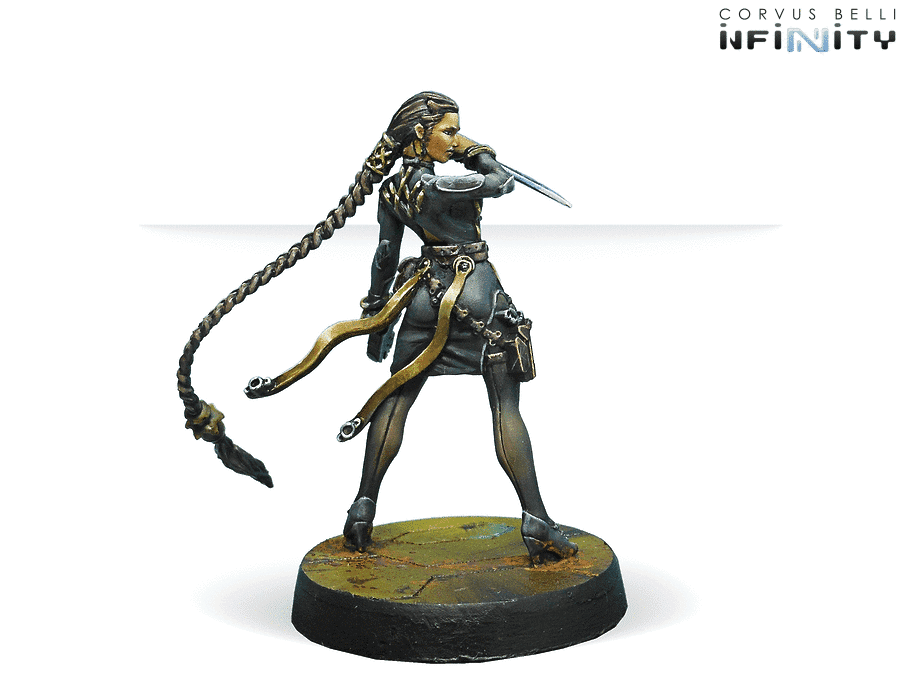 Avicenna, Mercenary Doctor
Avicenna, Mercenary Doctor
If you need any assistance, please contact us:
store@corvusbelli.com
Avicenna, Mercenary Doctor
A gorgeous re-sculpt of a well-known Infinity character which replaces the previous blister. Avicenna is a Rogue AI that lives always on the run, escaping from ALEPH, but if you find her maybe you can hire her as Mercenary Doctor, taking good advantage of her superb medical skills. Or maybe you would prefer to use it as HVT model or just as a character for your Infinity RPG games!
Abū ´Alī al-Husayn ibn Sīnā (979-1037), was known in the West as 'Avicenna'. An important Arab philosopher and doctor, he was called "Prince of Physicians". Author of the Canon of Medicine, his work served as a primary medical education text in Europe and Asia for around four centuries. His reputation provided him with honors, fortune and even political power. He was also known for mixing study and pleasure throughout his life.
The real objective of Project "Hakim" remains unknown. The effort required to develop a Re-creation doesn't justify its use for merely experimental or scientific purposes. There is a rumor, running through the gossip shops of Intelligence agencies and conspiracy theory forums, that Project "Hakim" was the spearhead of an operation developed by ALEPH to win the hearts and minds of Haqqislamite society. The objective was to make Haqqislam more open to ALEPH's presence, as is the case in PanOceania or Yu Jing, with the Re-creation of Avicenna as an 'ambassador'. True or not, the danger to the independence of the philosophical Haqqislamite culture was enough for the Hassassin sect. In partnership with the Black Hand, the Hassassins kidnapped Avicenna, simulating his death in a terrorist raid. His body, disconnected from ALEPH, was translated to one of the Praxis Black Laboratories where it was studied and analyzed. All hardware, software, wetware and nanoware that linked the Re-creation with ALEPH was wiped and new and esoteric components were implanted, taken from the HelloBoxes of the ArTechnoDivarius.
However, to develop the second phase of the operation, it was essential Avicenna was untraceable by ALEPH. So, once laboratory investigations were complete, the Re-creation was sent to the Witness Protection program of Black Hand, the most secure in the Human Sphere. They implanted a new and perfect identity chip and partially induced amnesia was used to erase the most controversial aspects of his identity. Finally, they made some slight adjustments to his personality software to facilitate his adaptation to a new body: an advanced feminine Lhost provided by the Hassassin sect.
Avicenna's new sense of self was not yet complete. She lived for years using the identity of a young Doctorate student in the University-Bimaristan of Medina, under the close observation and surveillance of Hassassin and Nomad scientists. It is believed a huge amount of information was obtained by this study. However, the effects of the amnesia slowly wore off and different aspects of the real character of Avicenna emerged. Gradually, the false personality provided by Black Hand absorbed and fused with remnants of the original personality re-created by ALEPH. The final integrity of Avicenna's character was so jeopardized that it will never be the same again.
When the investigation project ended, Avicenna was liberated from Hassassin and Nomad surveillance, being free to choose her destiny, as a small vengeance against ALEPH. Eager for experiences, she decided to leave Bourak to explore human space and visit those places that her original personality could only dream of. Impelled by her desire for knowledge and freedom, she crossed the Sphere under different identities, offering specialized medical services. Her sense of adventure drove her to enrol as Medical Officer for various Mercenary Companies, changing her identity continually to avoid ALEPH's pursuit.
Avicenna is a tireless voyager but, like her original, a lover of comfort, luxury and mundane pleasures as well. For this reason, she is obliged to make stops in her continuous wandering, to carry out contracts as personal or crew doctor, contracts which serve to pay the next stages of her incessant voyaging and indulgence in luxury. She recently practised as a campaigning doctor, fighting successfully against the engineered fevers that ravaged the colonists of Nimatan Island. However, her accusations against a pharmaceutical conglomerate attracted too much attention, forcing her to vanish again into the nebulous underworld of the Mercenary Companies. Of course, currently it is practically impossible to know under which identity Avicenna hides - or if she really exists, because there are no official documents to support this story, that could be only an urban legend, maybe just another product of the numerous conspiracy theories that surround ALEPH…
Composition
The miniatures of this product are made of metal.
The metal used is lead free, complying with Regulation (EC) No. 1907/2006 of the European Parliament and of the Council on the registration, evaluation, authorization and restriction of chemicals (REACH).

---
More Information
This product is not a toy.

Not intended for use of persons 14 years of age or younger.

The miniatures included in our products are supplied without paint and non-assembled.
Actual components may vary from those shown.
---