Model Color Set: Infinity Yu Jing Exclusive Miniature
€27.50
Available to purchase online
---
If you need any assistance, please contact us:
store@corvusbelli.com
Model Color Set: Infinity Yu Jing Exclusive Miniature
This set allows you to own all the necessary colors to paint the models belonging to the Yu Jing Army.
This set includes a Zhanshi Forward Observer exclusive miniature that can only be found in this paint set. Includes the colors: Black (70.950), Heavy Black Green (72.147), Periscopes (703.309), Cavalry Brown (70.92), Orange Brown (70.981), Scrofulous Brown (72. 038), Ice Yellow (70.858), White (70.951).
In addition, this set includes an Ángel Giraldez step by step guide, where he explains how to paint this miniature.
A perfect set for a good start in the miniature hobby

The colors shown are approximate, real colors may vary from those shown.
Composition
The miniatures of this product are made of metal.
The metal used is lead free, complying with Regulation (EC) No. 1907/2006 of the European Parliament and of the Council on the registration, evaluation, authorization and restriction of chemicals (REACH).

---
More Information
This product is not a toy.

Not intended for use of persons 14 years of age or younger.

The miniatures included in our products are supplied without paint and non-assembled.
Actual components may vary from those shown.
---
1 review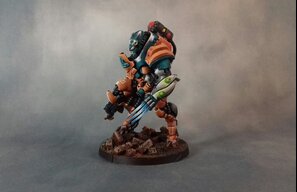 Wikkid Devil
This is a good value set of paints with a really nice mini included. I think 'Periscope' May be my new favourite colour in the Vallejo range. If you are an inexperienced painter, the Yu Jing painting guide included is clearly explained and demonstrated in a beautifully presented pamphlet. However, it is only for the uniform and doesn't cover skin tones or hair. Overall I am very pleased with this set and I'm looking forward to adding the mini to my forces.