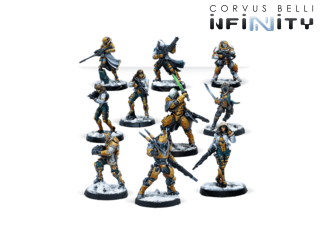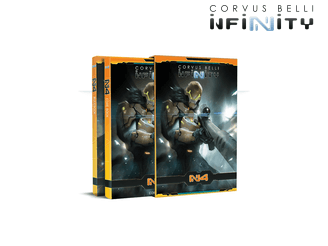 Start Playing Infinity
€149.90
Start Playing Infinity
Start your exciting adventure in the Infinity Universe with our exclusive "Start Playing Infinity" bundle, which includes the Yu Jing Action Pack plus the N4 rulebook!
The Yu Jing Action Pack gives you a powerful set of units to start building your own army, including:
3x Zhanshi (Combi Rifle)

1x Hùndùn (MULTI Sniper Rifle)

1x Jujak (Combi Rifle, Heavy Flamethrower)

1x Dàofěi (Spitfire)

1x Gŭiláng (Antipersonnel Mines, Boarding Shotgun)

1x Shàng Jí Hacker

1x Yě Māo (AP Spitfire)

1x Jing Qo
These courageous units will allow you to join the fight for leadership in the Human Sphere.
Yu Jing, one of the most prominent nations in the Human Sphere, is determined to achieve supremacy and will do so by using its rich tradition and advanced technology to forge a powerful army coupled with a strong economy.
With this bundle you can begin to enter the thrillingly rich and Infinity Universe.
The bundle also adds the N4 rulebook that will accompany you on your journey, providing you with all the necessary rules and guidelines to enjoy a rousing and immersive Infinity Wargame experience.
This bundle is the perfect choice to start your Yu Jing army and fully throw yourself into the fantastic and rich Infinity Universe. Don't miss your chance to join the fight and forge your own destiny in the Human Sphere with this incredible starter pack!
Buy together


What do you get when you buy Start Playing Infinity?
1x Yu Jing Action Pack:

3x ZHANSHI (Combi Rifle)
1x HÙNDÙN (MULTI Sniper Rifle)
1x JUJAK (Combi Rifle, Heavy Flamethrower)
1x DÀOFĚI (Spitfire)
1x GŬILÁNG (Antipersonnel Mines, Boarding Shotgun)
1x SHÀNG JÍ Hacker
1x YĚ MĀO (AP Spitfire)
1x JING QO

1x N4 Rulebook
This product is not a toy.

Not intended for use of persons 14 years of age or younger.

Actual components may vary from those shown.
Product created by

Corvus Belli
---