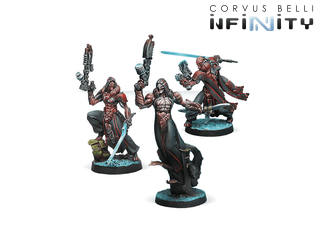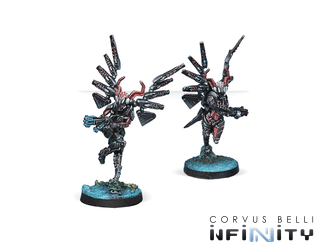 Onyx Bundle
The final claxon is sounding for Onyx fans!
For those seeking tactical excellence, this is your last chance to purchase authentic, must-have Combined Army assets. Introducing a unique collection of limited products featuring the formidable warriors of the Combined Army Onyx Sectorial. These exceptional soldiers are ready to redefine any battles you see fit to deploy them in.
What do you get in this bundle?
1x Blister Fraacta Drop Unit (Boarding Shotgun, Spitfire)

Dominate the skies and terrain below with this specialized unit. Armed with a high-capacity Spitfire weapon, this unit is ideal for raining lethal shots down on the enemy, so be ready to drop from the sky to achieve victory no matter how hard the fight gets! Your enemies won't know what hit them when you deploy these devastating assault tactical units from above.

The Umbra, Boxed with three miniatures including a Legacy Umbra with Spitfire, another Legacy Umbra with Boarding Shotgun, and a Samaritan Umbra with Combi K Rifle.

The darkness comes alive with this lethal creation. The Umbra is the scourge and terror of your opponents as it is capable of sowing chaos and destruction throughout their ranks.

The Umbras are legendary warriors who instill not only respect, but fear in their enemies. Utilize their intimidating power to break the spirit of your adversaries!
Don't miss out on this opportunity to acquire these Onyx assets before the offer ends - it's now or never!
Your stratagems won't be as impactful without the devastating might of these Combined Army warriors. Prepare for battle! Assert your dominance in the combat zone!
What do you get when you buy Onyx Bundle?
This product is not a toy.

Not intended for use of persons 14 years of age or younger.

Actual components may vary from those shown.
Product created by

Corvus Belli
---