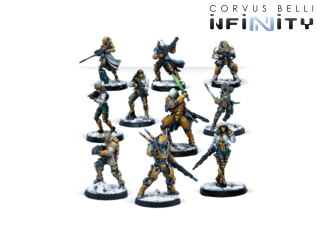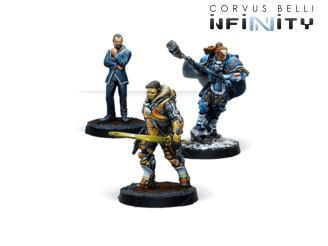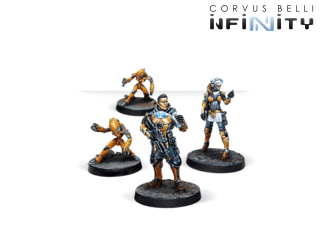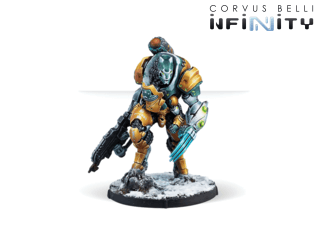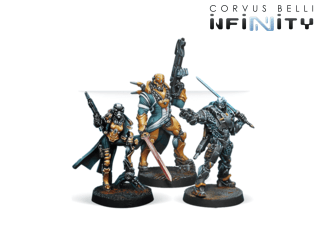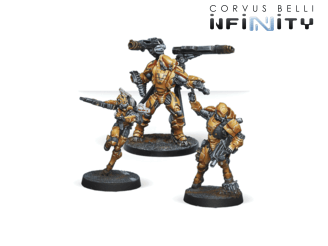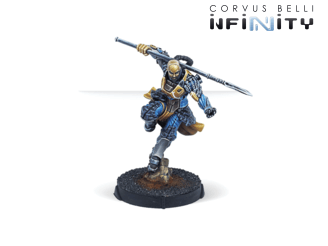 CodeOne Yu Jing Bundle
€327.60
CodeOne Yu Jing Bundle
27 miniatures in eight boxes, during Yu Jing Week we are offering you this impressive Bundle for CodeOne at a special discounted price This is an offer that you cannot afford to miss!
CodeOne is a condensed rules variant of the Infinity miniatures wargame. CodeOne was created with the goal of making the game more accessible to new players and providing faster and easier matches without sacrificing the tactical depth that characterizes Infinity.
If you feel that you are ready to jump into Infinity, you don't want to miss the opportunity that Yu Jing's CodeOne Bundle offers you.
This impressive Bundle is the perfect choice for those who want to build a powerful Yu Jing army in the exciting world of Infinity. With a total of 32 miniatures in nine boxes, this bundle is an opportunity that you cannot miss.
With the CodeOne Yu Jing Bundle you will have a ready made army that will triumph in the Human Sphere.
The bundle contains the following boxes:
Yu Jing Action Pack
Yu Jing Booster Pack Alpha
Yu Jing Booster Pack Beta
Blue Wolf Mongol Cavalry
Liang Kai
Kunai Solutions Ninjas
Yaokong Remotes Pack
Yu Jing Support Pack
Dire Foes Alpha: Retaliation
This bundle provides you with everything you need to build a formidable Yu Jing army then immerse yourself in the electrifying battles of Infinity. Don't miss this opportunity to dive into the r action in the Human Sphere!
You can see the entire contents of the Bundle in Product Information.
Remember, time waits for no one… and this superlative offer does have an expiration date!
Buy together


What do you get when you buy CodeOne Yu Jing Bundle?
Yu Jing Action Pack
3x ZHANSHI (Combi Rifle)
1x HÙNDÙN (MULTI Sniper Rifle)
1x JUJAK (Combi Rifle, Heavy Flamethrower)
1x DÀOFĚI (Spitfire)
1x GŬILÁNG (Antipersonnel Mines, Boarding Shotgun)
1x SHÀNG JÍ Hacker
1x YĚ MĀO (AP Spitfire)
1x JING QO
Dire Foes Alpha: Retaliation
1x GUNNAR
1x ADIL
1x Yu Jing ambassador.
Yu Jing Support Pack
1x MECH-ENGINEER
1x Zhanshi YĪSHĒNG
2x YÁOZĂO
Yaokong Remotes Pack
2x Yáokòng Remotes (Bodies)
4x Weapon options:

1x Combi Rifle (Wèibīng Yáokòng)
1x HMG (Hùsòng Yáokòng)
1x Missile Launcher (Son-Bae Yáokòng)
1x Flash Pulse (Chaīyì Yáokòng)
Blue Wolf Mongol Cavalry
Yu Jing Booster Pack Alpha
1x HSIEN (Heavy Machine Gun)
1x ZHÀNYING Hacker
1x HAC TAO Hacker
Yu Jing Booster Pack Beta.
1x YĀN HUǑ FTO (Missile Launcher)
1x ZÚYǑNG (MULTI Rifle)
1x TIGER SOLDIER Hacker
Liang Kai
This product is not a toy.

Not intended for use of persons 14 years of age or younger.

Actual components may vary from those shown.
Product created by

Corvus Belli
---